Editorial

Slava Ukraini

By Toh Hsien Min

Since my university days, I have always wanted to rail across Russia on the Trans-Siberian Railway, but there was always some other place to see. In the summer of 1997, I came close, when I decided to try to get back to Singapore overland but from Beijing instead of Saint Petersburg because of the hassle of having to apply for visas in multiple countries, back when visa-free travel was considerably less common (in the end I was snooked by a visa issue in Hong Kong, oddly enough). Then in 2017, a friend and I tossed around an idea for a while of visiting Kamchatka, and again never followed through. And now it seems I may never see Russia in my lifetime.
The reason is 24 Feb 2022, perhaps the clearest manifestation of sovereign evil since the Second World War, exceeding even the US invasion of Iraq in being not merely a violation of another country's sovereignty but a cold-blooded attempt to do the most damage possible, encompassing not just wanton disregard for non-combatant property and lives but outright genocide, rape, and other war crimes. All of which are fast making that putain in the Kremlin synonymous with a certain German dictator in the 1940s.
The trouble is that allowing Putin to get away with all that he is doing with impunity can only lead to more insecurity globally, for example by encouraging nuclear proliferation as would-be dictators see first-hand that having a nuclear football allows you to do whatever you like - which is why it is important that Russia is defeated and is seen to be defeated. To echo that surprisingly candid comment from the US Secretary of Defence Lloyd Austin, Russia must be "weakened to the degree that it can't do the kinds of things that it has done in invading Ukraine", which will in part send a message that regardless of the size of your military there will be consequences for shattering the peace. Part of this, to my mind, means hobbling the Russian economy by refusing to trade with it, in effect to deny them the benefit of a rules-based order while they continue to damage it. Every country and every person with an interest in peace and security in the world has a responsibility to contribute actions towards this.
*
On a happier note, I am pleased to report that, after some unexpected production hiccups, our 20th anniversary commemorative boxset Quiet Loving, Ravaging Search has now been released. Under the stewardship of Fong Hoe Fang and his new Dakota Books imprint within his Word Image publishing house, the end product is a thing of beauty, with a hardback magnetic wraparound shielding a soft blue collective sleeve that in turn encloses all four books, whose interiors showcase their material in even more aesthetic typesetting than we can achieve on the site.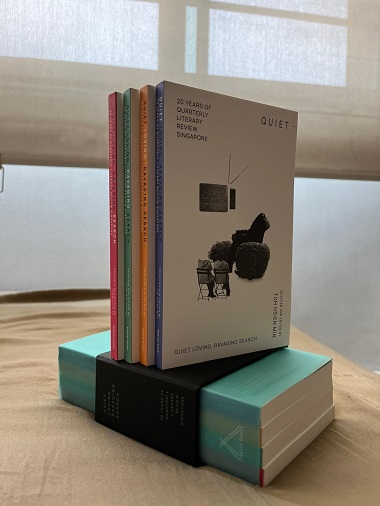 Photo credit: Yeow Kai Chai

On the downside, only a limited number of this special format has been produced, and it is likely that once the commemorative edition sells out any reprint will be revisited through a more economical trade paperback style... so get yours today through the link on the right hand side, before it's too late!

*

Of course, even as we celebrate twenty years of QLRS, we continue to plug away at our quarterly bread and butter. This issue is the first one after Steph and Shu Hoong have swapped jobs, leading to interesting shifts in their respective sections - Steph may have gone for a somewhat more sombre style of essay (albeit one datapoint may be too little to conclude upon), while Shu Hoong has indeed seized on the benefit of being based here to somehow cajole a staggering six reviews out of the community. Interestingly, both of them have selected pieces by Jonathan Chan, as have I, with all of us making our decisions independently. While I have gone with a smaller than usual batch of poems, Kai Chai's selection is both numerous and substantial. Perhaps some of these might even land up in the 40th anniversary boxset, if we get there.

QLRS Vol. 21 No. 2 Apr 2022



_____