Chris Ho: Between Thought and Expression

By Lim Cheng Tju

The passing of Chris Ho on September 27, 2021 saw a steady stream of tributes pouring in for the influential radio and club deejay, music critic and singer-songwriter. Many talked about his contributions to the music scene in Singapore, in shaping our musical taste for punk, new wave, and basically the weird scenes inside the goldmine.
The facts are simple: Born October 28, 1954, Chris died of stomach cancer this year, and remained "forever 27." But the man was complex. I had known him for more than three decades, and there are aspects of his life and career that should be talked about, lessons we can learn from his example, and from his failures. It will be difficult because his death just happened; the wound is still raw and some may not be happy about this. But if there is anything I have learned from Chris, it is to take the bouquets and brickbats squarely in the face. It's alright, ma, I'm only bleeding.
As much as Chris is the John Peel of Singapore, the eternal iconoclast, the godfather of punk, all these are just labels. In truth, he wanted success like any of us. He wanted to be accepted and loved by his peers, his audience. He wanted his music to be heard, to be in the charts and to chart the musical direction of rock 'n' roll in Singapore. Why else in Regal Vigor (1983), the only album put out by his band, Zircon Lounge, that we have guests like Dick Lee (also the co-producer of the album), Anita Sarawak, Jacintha Abisheganaden, and even Roger Kool, one of the most popular deejays on the radio in the early 1980s?
Since his passing, old footage of Zircon Lounge playing on national television has resurfaced. Chris and gang did not appear on the then-Singapore Broadcasting Corporation programmes to simply take the piss out of things and to bite the hand that fed them. They did it to reach out to a wider audience, to be trendsetters, to sell. To believe otherwise is to fossilise the romantic image of Chris as the rebel-rouser. Yes, he did some of that, but he wanted the No. 1's, the smash hits. The difference is that he wanted to do it on his own terms.
In 'Guide These Hands,' Zircon Lounge's contribution to the bestselling WEA compilation, Class Acts (1985), Chris sang,
So easy to wear things around the neck.
Till the reason you do so is no longer there
Or maybe things change
Nothing wrong with that
Just like many facets
Just like various hazards
Early in his career, Chris already felt the weight of labels and expectations, as a singer and as a person.
There lies the contradiction between thought and expression, between the man's image and his actions. Maybe Chris the iconoclast was what we think he should always be. But Chris had expressed himself differently at different points of his life – he liked the pop music he grew up listening to in the 1960s; he was the sunburnt sex symbol of Nite Songs in Day-Glo (1989); the über-social satirist in the 1990s (courtesy of BigO's The X'Ho Files); the Deejay Mentor in the 2000s (a man got to make his living when the mainstream jobs had dried up when you were too critical and ironic); and eventually Lord Lucifugous (2013) in the final decade of his life. He subverted our expectations of him, which, to me, is more punk than remaining punk just because we wanted him to.
Chris wanted his cake and eat it too, but mainstream success eluded him. He moved from punk to pop, and his anger and bitterness finally found expression in the musical genre he embraced in the last 10 years: black metal. But we can't go on, we will go on. If you know Chris, it was never be truly all doom and gloom, it will be done tongue-in-cheek. Chris is a cheeky bugger.
Between thought and expression, lies a lifetime. And what a life of interstices and intersections. Which brings me to the second point.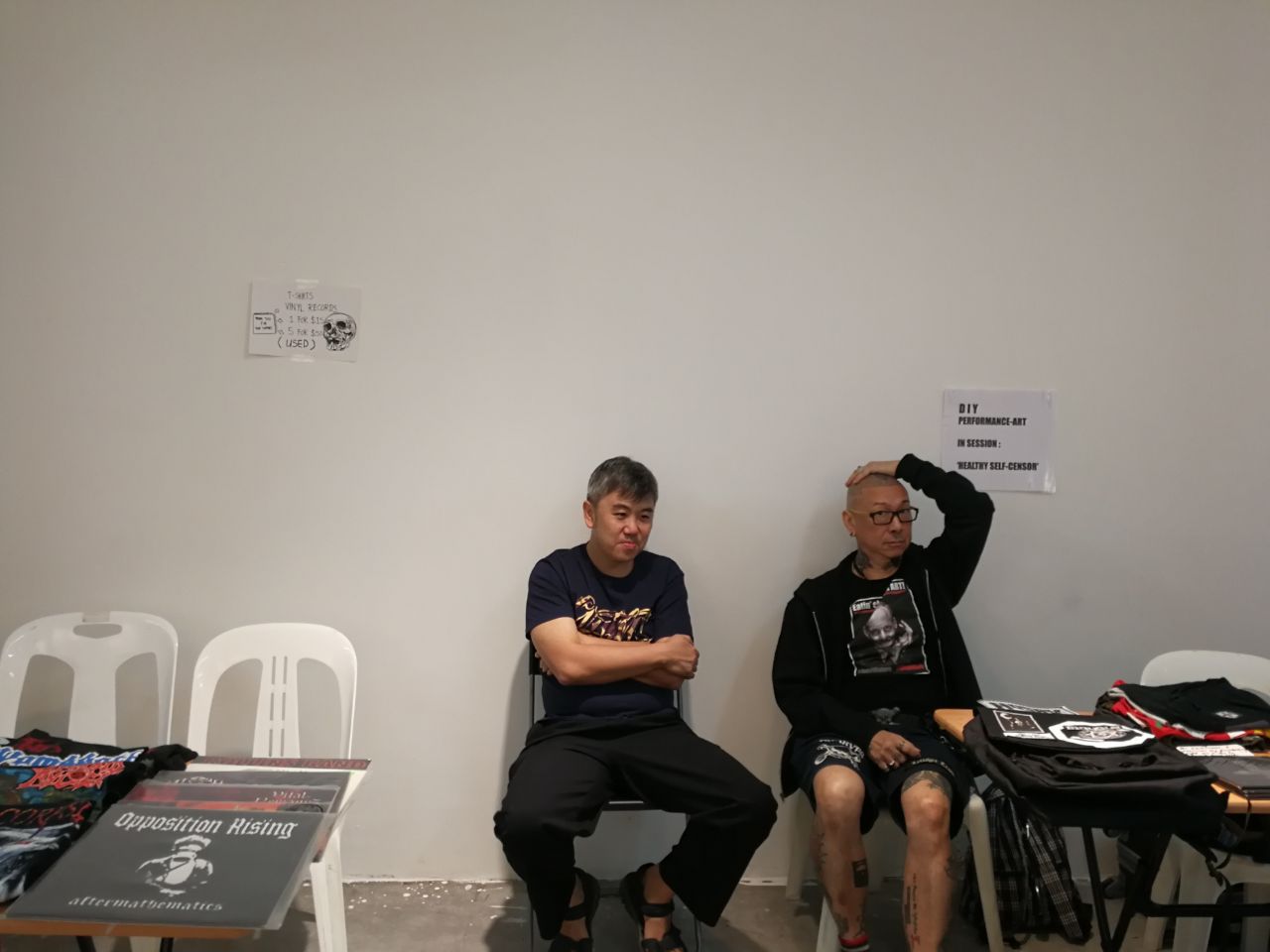 The author with Chris Ho at the Zines Not Dead festival at The Substation in May 2017. (Photograph: Shaiful Risan)


A day after Chris's passing, a friend asked me to create a Wikipedia page for Chris. There is one for Zircon Lounge but none on him. But I found that there is a very comprehensive one done on the Singapore LGBT encyclopaedia Wiki. By now, there should be little doubt about Chris's sexuality. He did not hide it from his friends, but he kept it under wraps in his public and professional life. He did not fly the LGBT flag on the airwaves nor champion Pink Dot, not that I know of—although he did participate in IndigNation in the 2000s. He was of the generation that separated personal belief/work from professional life. Sure, he let it rip in The X'Ho Files, he made award-winning gay short films, and he got his cock tattooed in the documentary The Naked DJ (2014), but he never imposed his views on his public.

It does not mean Chris was ashamed of his sexuality. He chose to reveal it in plain sight, in his songs and lyrics. As early as 1988, in a song he co-wrote with Dick Lee, 'Deeper,' the lyrics went:
She nodded courteously, she knew who I was,
Though I didn't know who she was till I realised
You were standing next to me.
Not smiling, not saying a word
I retreated for my own protection,
Shying from the scene
The song was first recorded by Dick Lee. But when Chris recorded his own version in 1992, the pronouns of 'she' had all changed to 'he.' It was revealed later that the song's lyrics about a bleeding foreskin had been amended by Dick. Even in Regal Vigor, there is a song, 'Strangers,' which in hindsight, could be about cruising. Notes from Jean Genet's The Thief's Journal (1949) was also performed by the band, if you still didn't get the hint.
By 1994's PunkMonkHunk, Chris was saying it as it was:
Waking up at a time to find
Life is always incomplete
Whoever thinks about that
Only fools entertain such thoughts
Only fools will go
Where angels fear to tread
But I see more than just a circle
I feel it's more than just a riddle
Life can be straighter than an arrow
But sometimes it's not as plain as that

('The Good Master')
So all the clues are out there, in plain sight for us to see. Chris quoted E. M. Forster, who was open about his homosexuality to his close friends, but not to the public. That's why more than anything else, Chris is a singer-songwriter. His brutal honesty, his confessional overtones, you will find them in his lyrics if you look and listen hard enough. Most fans talked about Regal Vigor in revered tones. But I would recommend Chris' solo albums in the last 15 years. His last album, Adventures in YinYao (done with regular collaborator Everafter), was released online in May this year. Although recorded in 2016, the last track 'One Day At A Time (Missin' Pt 2)' is simply heartbreaking:
I shall try to go gently into the night while waiting for you
It's my time to take out the laundry to dry
One day at a time
He was still looking for that someone special.
These two aspects of Chris that I have written about—his desire for success (on his own terms) and his sexuality—may not go down well with all. These are just some personal thoughts and others can share more about Chris's impact as a radio deejay, critic and as X'Ho the underground musician. But I choose to remember him as a friend—complicated, contradictory and tormented, but who was also kind, generous, gentle, and perhaps just too sensitive for this bloody island.
Well this is a mess of a place
Is this the kind of place for you and me
I got my priorities right
But for a lot of folks it's all money

('The Good Master')
See you again in the funny place, Chris, that is something like a circus or a sewer.

QLRS Vol. 20 No. 4 Oct 2021

_____