Staging the Book of Changes

Large cast displays both individual and ensemble acting skills

By Richard Lord

Going right back to its origins, theatre has been conflicted, caught in an identity crisis – should its purpose be to replicate reality or to create magic? This holds true across practically all cultures and whether those origins were in ancient Athens, in Chinese Shang Dynasty courts, in Indonesian Buddhist monuments, Indian temples in the Rig Veda period, or probably even in a large clearing in some African village.
Certain periods in Western drama have seemed to indicate victory for one side of the identity issue or the other: the triumph of Realism and Naturalism in Western theatre in the late 19th and early 20th century seemed for a time to have firmly established the full ascendency of the reality principle. But a sterility in the less accomplished works of Realism and Naturalism turned off audiences, and we saw the rise of counter-movements such as Surrealism, Expressionism and Theatre of the Absurd. These forms of theatre sort to supplant the dominance of realistic theatre – or at least to bring magic back into the fore.
In recent decades, many of the leading theatre practitioners have decided that a healthy and thoughtful mix of magic and reality is the best formula for a successful stage production. There is just something about the transformative powers of magic as it takes place before our eyes .
Which brings us to the local theatre scene and the present day. For its graduation show 2008, Nanyang Academy of Fine Arts (better known hereabouts as NAFA), invited one of Australia's most esteemed theatre doyens, John Clark, to do directing honours. Clark is not only an acclaimed director Down Under, but taught for many years at Australia's most respected theatre school, the National Institute of Dramatic Art (or NIDA), which he also headed for over three decades.
Clark's initial brief here was to come up with a play requiring a large cast and which allowed the members of that large cast to display both their individual as well as ensemble acting skills. Clark suggested Mary Zimmerman's acclaimed play, Metamorphoses, which would be am stimulating challenge to both cast and director. It was a wonderful choice, and allowed for an evening of wonder to ensue right there on Bencoolen Street.
In fact, the cast here was almost double the size of the ensemble Mary Zimmerman took as she swung into New York. But then again, this was a graduation show and thus its aim was to give stage time to as many members of the graduating class as possible.
Zimmerman's script is based on the ancient Roman classic of the same name by Ovid. Ovid's work was itself infused with ample measures of magic - though often a dark magic. In both Ovid's work and Zimmerman's retelling of it, the gods frequently dart in and out of the lives of mortals, often screwing up human affairs considerably.
Speaking of affairs and screwing: one of the many reasons that the gods drop in on this earthly realm is the urge to couple with the more attractive of the mortals. One of the more charming (and rather humorous) episodes in this anthology involves the attempted seduction of the lovely Pomona by Vertumnus, one of the immortals. In this rendition,Vertumnus shows us that, god though he may be, his divinity doesn't save him from occasionally becoming a real jerk - especially when the coy Pomona decides to playfully reject his early advances.
The easeful charm in Mary Zimmerman's version of this story was helped to no small extent by the fact that Timothy Goh as the klutzy god and Pomona as the coquettish mortal gave finely tuned performances of the pair.
A much darker tale of the intercession of the gods in human affairs is the story of Myrrah and her father Cinyras, wherein a jealous Aphrodite arranges for dad and daughter to engage in robust incest. Myrrah, sexually drawn to her own father, first considers then rejects suicide as a means of overcoming her urges, and ultimately decides to give into them.
So, while mom is away, dad and daughter play. Cinyras is fairly drunk during the initial couplings, which also take place in the dark, so Cinyras has no idea that he is doing his own daughter. One night, however, he brings along a lamp, discovers the great sin to which he has been an unwitting party, and is appalled and outraged. Myrrah must flee and is eventually changed into a myrrh tree, one of the many arbourous transformations that take place over the evening.
Another of these glorious transmutations into trees involves Baucis and Philemon, an elderly couple living at the edge of poverty who were the only mortals who privided a proper welcome to Hermes and Zeus, disguised as human travellers. The gods are so moved by the hospitality of this struggling couple that they grant them their wish to be together forever. The result: the pair are changed into two intertwined trees.
You get the idea. Metamorphoses involves a lot of what its title proclaims: changes from one form into another, a shift from one world into another, from one view of life into another. (As an example of the latter, Midas learns that his love of wealth and the gold that provides it are false pursuits, as his greatest treasure is his family.) A driving theme of these stories: the only thing constant in this world is change. Also, as one narrator cautions us, "none of these stories having completely happy endings..." That statement may be a bit of a stretch, but it does bring out another recurring theme in this show: that neither human nor divine happiness is completely unalloyed.
Mary Zimmerman, who is not only an accomplished playwright but also ranks as one of America's most respected directors, came up with a unique staging concept here that would put her directorial stamp on any future productions. (Her own New York production of this show was, by the way, rewarded with the 2002 Tony award for Best Director.) Zimmerman's most outstanding contribution in this regard was setting most of the action in and around a huge central wading pool.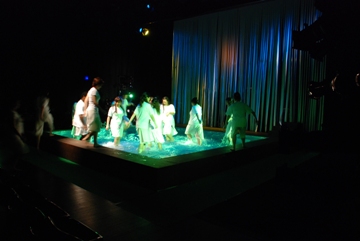 As water has since ancient times been seen as a setting for major transformations (heck, even Darwinian concepts of evolution invoke this trope), the choice certainly works thematically. More important: theatrically, it works like a charm.

Obviously, the pool device is a perfect fit for the story of Narcissus, in love with his own reflection, and well serves the saga of Alcyone and Ceyx, where the latter gets lost at sea, leaving Alcyone broken-hearted until redemption comes via a metamorphosis into birds. But the highly inventive Mary Zimmerman shows us that the device can also work splendidly for most of this short selection of Ovid's tales.

But it wasn't only Zimmerman's concepts, as fixed into the script, that contributed to the high register of magic in this NAFA show. Director John Clark took the creative baton from Zimmerman and let his own imagination run with it. One can even say that Clark took that baton and saw it turned into a magic wand which he used to deliver quite a few fine theatrical touches of his own devising. These started early on; for instance, in the opening Midas sequence, musical triangles were used as tree branches, each ringing as Midas flicked at it. This ringing signalled that the branches were being turned into gold. We didn't have to see this transformation; we could hear it. Such flashes of directorial inspiration continued right up through the final moments of the show.

Clark also picked up the playfully anachronistic approach of Mary Zimmerman to many of these stories. He had Hermes come on with a winged hat and sporting big yellow sunglasses, reminiscent of early, over-the-top Elton John. It fit the outrageous nature of the character as performed here by Timothy Koh

More important for a graduation show such as this, Clark guided his cast of young performers quite commendably, showcasing their talents while challenging them to step up and contribute their bit to producing the flow of magical moments in this production.

Some of the cast members in this group of NAFA graduates have already performed in the ranks of Singapore's professional actors, in some cases even winning coveted acting awards. (This would include Janet Goh, co-winner of last year's Short&Sweet Best Actress runner-up.)

The stand-out performer of the evening, however, was Ebi Shankara. A commanding presence on stage, Shankara demonstrated a sense of delivery and timing that made him highly effective in both comic and serious moments. He also used his face very well: at several key points, he delivered rich emphasis to a scene just with a silent look. In addition to the role of Cinyras mentioned above, Shanakara was splendid as Midas, and also shone in smaller roles, such as Poseidon and Hades.

There were quite a few of these NAFA grads who likewise turned in sparkling performances, some almost as impressive as Shankara's turns. Nur Sahirrah Bte Mohd Safit, for example, was quite strong as Myrrha ( for some reason, pronounced Myra here). Safit traversed the depths of dark emotions in this role as the love-crazed lady sought to seduce her father. Pairing her with Ebi as the unsuspecting father was a good decision, as the two worked well together in these difficult roles.

Other stand-outs included two already mentioned, Janet Goh and Timothy Koh, in all the roles they were assigned. Others worthy of special mention were Simran Sagar as Alcyone and Leo Lei Yu as Ceyx in one of the evening's more emotionally engaging episodes. And one of the reasons why it was so engaging was that the actors were supported by very impressive visuals here, especially at the end of the episode.

Lei later paired with Loh Pei Shan to give us an effective sketching of Philemon and Baucis. This elderly couple came off rather touching, in particular in the affection they showed for each other; but it was clear that Lei and Loh, like so many young actors, were playing at being old people: you could never quite believe that this was an old couple up there.

A more star-crossed pair of lovers, Orpheus and Eurydice, were nicely limned by Benjamin Chee and Ivy Wang Meng. Chee also handled the role of Erysichthon, an impious tree-chopper who is punished for his impiety by being afflicted with a fatally insatiable hunger. Then, to show another side of his abilities, Chee took on the role of Zeus and gave us a much kinder and gentler version of this lord of Olympus than the serial lecher-megalomaniac we usually get. (It was in the Baucis and Philemon episode, so Chee's subtle handling of the role was quite appropriate.)

Humour abounded in this show, and Clark and cast did not shy away from some nice anti-PC humor: At one point, a full-figured actress in the role of Ceres (Siti Raudha Tehan) intoned, "It is forbidden ever for Hunger and me to meet." I do not know if this was a conscious casting decision, but that line did get a laugh from the audience as Tehan delivered it, with just a pinch of irony.

Aphrodite, played nicely by Gloria Tan, was also full-figured, with an ostentatious pink top, white mini-skirt and shades. It was totally unexpected and worked like a charm; maybe not a love charm, but a charm nonetheless.

Some of these NAFA graduates displayed rather mixed skills, at least in their handling of English. For instance, Ivy Wang Meng, who delivered a fairly nice performance as Eurydice, where her main tools were her face and body language, was not a good choice as a narrator; there, her accent really mashed some of the narrative she was delivering. It was hard to take this narrator seriously as she kept mispronouncing words. And narrators play important roles in this show, which makes constant nods back to its literary origins. Most of the narrators (all of them females in this edition) handled their duties in a commendable manner.

Jessica Lir Peixian, who played Lycina as well as serving as a narrator, also had an accent, though hers was not as obtrusive as Ivy Wang's. Her Lycina was, on the whole, engaging and her turn as a narrator acceptable.

I do not wish to slight any of the other cast members by ignoring them, soi let me just say that each and every member of this graduating class has some acting talent – some more, some less – and they all got the chance to showcase their talent, if only briefly. But the NAFA management can be proud of what their grads were able to accomplish in this valedictory production.

A show like this also demands first-rate technical support and I would be remiss if I did not salute Suven Chan, whose lighting design was exemplary. Chan's skills contributed a great deal to the overall magic of this evening.

Tjong Bernice also deserves full credit for her sound design for the show. One element in particular stands out for me: during the consummation scenes between Myrrha and her father, the theatre was filled with heavy drum beats – seductive and ominous at the same time.

Everything strong about this production came together during the evening's coda: the visuals featured small candles placed all around the edges of the pool. Then various members of the cast took the candles and assembled in the pool itself. At this point, as magic suffused the stage, a formerly distraught Midas returned, turned and saw his daughter coming back, embraced her and pointed up as all the lights slowly went down. We do not know where or what he was pointing up to, but the look on his face told us it was something good, something better.

One can imagine this Midas has been allowed a glimpse into the future, and has found it full of new hope. I would guess it will be a good future for many of these grads, one in which they can hope to get many more opportunities to participate in the kind of stage magic they helped create here.

QLRS Vol. 7 No. 3 Jul 2008

_____