Proust Questionnaire: 17 questions with Daryl Lim Wei Jie

By Yeow Kai Chai

If there is one thing Daryl Lim Wei Jie does not suffer from, it's the dreaded "sophomore slump," a syndrome said to fell some artists who crumble after delivering well-received debuts.
Indeed: If his first poetry collection, A Book of Changes (Math Paper Press, 2016), signals the arrival of a nascent lyrical sensibility with an eye for socio-historicism, then the follow-up, Anything But Human (Landmark Books, 2021), is a great leap forward. It ups the ante with a surrealistic exposition of a world torn asunder—geographically, emotionally, morally. Alternately very funny, worldly and otherworldly, his voice is shaping up to be among the highlights in the next generation of Singaporean poets.
Even in this field, Lim distinguishes himself with a keen intellect and generosity of imagination, constantly probing essentialist borders of identity, time, and place. It comes as little surprise to find out that he read history at the University of Oxford; has a Master's in Political Thought and Intellectual History from the University of Cambridge; and now heads a team in the Smart Nation and Digital Government Office, under the Prime Minister's Office.
Since winning the Golden Point Award in English poetry in 2015, he has been prolific in the literary scene. His works have been published in publications and periodicals such as the Poetry Daily, Cordite, Cha: An Asian Literary Journal, The Southwest Review, Drunken Boat and Softblow, and been featured in anthologies such as A Luxury We Cannot Afford, Call and Response, 11 X 9 and others.
He co-edited Food Republic: A Singapore Literary Banquet (2020), an anthology of literary food writing from Singapore, with Ann Ang and Tse Hao Guang; and edited the revised edition of The Hidden Papyrus of Hen-taui (Bluback Productions, 2019), a sonnet sequence by Malaysian poet Wong Phui Nam. Lim also penned a critical introduction to Wong's works at poetry.sg, an online encyclopaedia of Singapore poetry set up by Sing Lit Station.
In 2022, Lim is working on a translation of a Chinese book, Short Tongue (短舌), by Singapore poet Wang Mun Kiat, and on an anthology of Singapore-Malaysia writing.
1. What are you reading right now?
I am reading Lucas Klein's wonderful translations of the Chinese contemporary poet, Duo Duo (多多), who is one of the foundational Misty poets, alongside Bei Dao (北岛) and Mang Ke (芒克). The volume's titled Words as Grain: The Poetry of Duo Duo, published by Yale University Press. I have found that reading Chinese poetry in translation gives me life — the title of my latest collection, Anything but Human, is taken from a poem by the poet Wang Xiaoni (王小妮). One of the most exciting discoveries I've made this year is that one can order Chinese books directly from Taobao, with very reasonable prices and shipping fees, and so I have gone ahead to buy the source Chinese collections Klein uses for his translations.
In addition, I am constantly reading Facebook and Instagram, like everyone else, which is a fact so banal and unremarkable now that it is like saying "I drink water daily." Yet it is perhaps still worth pointing out.
2. If you were a famous literary character in a novel, play or poem, what would you be and why?
This sounds like a non-answer, but I want to be Keats, playing himself in his Odes. That voice in the Odes has haunted me for decades — so utterly aware of its historic moment and destiny, yet somehow so utterly transcendent.
3. What is the greatest misconception about you?
That I am a very serious person. Far from it — I think laughter is often the best and sometimes the only recourse. I am constantly laughing at the state of the world, and I think that's perhaps the sanest response.
4. Name one living writer and one dead writer you most identify with, and tell us why.
Dead: Geoffrey Hill, who had long been an inspiration to me with his refusal to bow down to the demands of "accessibility" and the popular, misguided notions of what poetry is and ought to do.
Living: not to be a flatterer, but I would have to say Yeow Kai Chai. Kai Chai has been an inspiration in the way he has blazed the trail for experimental poetry in Singapore, carving out a special, mysterious space of his own.
5. Do you believe in writer's block? If so, how do you overcome it?
As a poet, I don't really feel I have writer's block. There just isn't that compulsion or pressing awareness of the need to produce or clock words, unlike prose writers. I just do other things. It helps I have a day job.
6. What qualities do you most admire in a writer?
Surprise and the unexpected.
7. What is one trait you most deplore in writing or writers?
Wordiness in place of thought or insight.
8. Can you recite your favourite line from a literary work or a piece of advice from a writer?
I can recite 'Jabberwocky' by Lewis Carroll from memory. Oddly apt, considering how my poetics has evolved. I'll just quote the first few lines, which somehow give a strong sense of atmosphere despite being full of nonsense, made-up words:
"'Twas brillig and the slithy toves
Did gyre and gimble in the wabe
All mimsy were the borogoves
And the mome raths outgrabe…"
9. Complete this sentence: Few people know this, but I...
didn't have a very literary or artistic upbringing. But my parents were seized with the importance of reading, and I was brought on weekly trips to the library. That's probably how this whole sorry literary business started. I am no eugenicist, but I think there's something to be said about artistic genes too. Over the years, I have come to the realisation that my parents have fundamentally artistic temperaments, and I see this in the furniture and curios they buy, the craft work my mum does and their general taste in things. It is interesting that my brother and I turned out to be both artists — Dave, my brother, is a photographer, film-maker and visual artist.
10. At the movies, if you have to pick a comedy, a tragedy or an action thriller to watch, which would you go for?
Can I pick one that's not on the list? Which is horror. Horror is an integral part of the modern condition. And the funny thing is — many films which aren't billed as horror films are in fact horror films. Dune is a horror film: the horror is Paul's inability to stop his own destiny and the impending, deadly jihad that he is about to unleash on the universe. The unending cascade of Ah Boys to Men franchises is a sort of low-grade but malignant horror. Sometimes the most terrifying things are the most ordinary and accepted things, as films like Get Out have taught us. The most outlandish horror premises merely serve to accentuate the stark present reality.
11. What is your favourite word, and what is your least favourite one?
The Portuguese word for cockatiel, which is calopsita. I stumbled upon it when looking up the etymology of cockatiel, after getting one as a pet not too long ago. I think it sounds very cute. So English cockatiel is a diminutive of cockatoo (i.e. the cockatiel is thought of as a small cockatoo). But in Portuguese calopsita is not derived from the Portuguese word for the cockatoo, which is cacatua (ultimately derived from Bahasa kakatua), but instead from the old scientific name for the cockatiel, callopsittacus.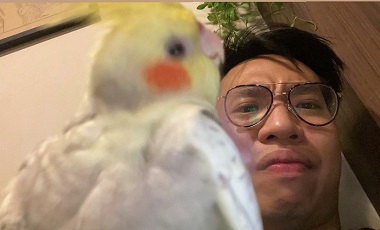 (I include what I find to be a hilarious shot of me and Birdy.)

One of my least favourite words has to be accessibility, followed closely by sustainability. I find these to be much abused words that serve mainly to cloak inadequacies of thought and rigour.

12. Compose a rhyming couplet that includes the following words: cockatiel, umami, I Ching.

Imbibing the energies of the I-Ching,
The umami cockatiel begins to sing

(This may be one of the handful of instances where I have rhymed in my poetry.)

13. What object is indispensable to you when you write?
The right posture. Which is both indispensable and elusive.

14. What is the best time of the day for writing?
Deep, dark night, when holy and unholy energies are both heightened and are in weird communion.

15. If you have a last supper, which three literary figures, real or fictional, would you invite to the soiree, and why?
If it's a last supper I would probably prioritise loved ones and friends, most of whom are not literary figures. Having said that, Wong Phui Nam, the Malaysian pioneering poet who is also a good friend, would definitely make it on the list. Mr Wong and I have been friends since I started corresponding with him by e-mail in 2017, and I always find talking to him immensely rewarding. Although he is 86, he has the curiosity and humility of a much younger person. I have learnt much from him, and it was a real honour to edit his work for publication and also write the poetry.sg entry on him. I will always remember him driving me around KL some years back, and me being somewhat worried about the whole enterprise, considering his advanced age… Still, we made it and had a rollicking time, and I have been in close contact since.

16. On the Sing Lit Station website under the 'Book A Writer' programme, you have been delivering two workshops: one on the intersections of history and poetry; and the other on critically examining the boundaries of what constitutes 'Singapore poetry'. Looking back on the history and development of Singapore poetry, can you cast an eye into the future and predict how it will evolve?
One of the points I often make in these workshops is that I find it interesting that we have settled on the term Singapore poetry and not Singaporean poetry. It would be like calling it America poetry and not American poetry. I have long wondered why this is. Idealistically, I have attributed it to a desire not to be bound by nationality, as a relatively young nation with many who are migrants and who are descendants of migrants. Therefore, Singapore poetry and Singapore literature should be as accommodating and capacious as our hearts are willing to be. So we have accepted the works of migrant workers, expats and other people with a connection to Singapore as part of SingLit. This was the approach I took, together with my co-editors, in editing Food Republic, the anthology of literary food writing from Singapore. Contributors just had to demonstrate a meaningful connection to Singapore.

Where I am perhaps going with this is that Singapore poetry, at least in English, has always been somewhat boundaryless and amorphous. It has arguably become more so, with migration to Singapore and from Singapore. I am wary of attempts to try and overly define and fix the boundaries of SingLit, as some have tried to do, by tying it to a Singaporean setting or Singaporean characters. The most Singaporean thing, some might argue, is trying to run away from being Singaporean.

At some point then, does the category serve a purpose? I half-suspect that as tastes and styles of writing get more and more diverse, Singapore literature and Singapore poetry will become less useful categories, and to talk about its future or shape might also be increasingly meaningless. Very few people would try to pronounce on the entire state or future of American poetry, for example. I think Singaporean writers and artists perhaps need to look past the nation-state as a main frame of reference. It can be suffocating and constraining, and some of us have an unhealthy obsession with it.

17. What would you write on your own tombstone?
To quote a poem in Anything but Human: "I carve your carbon footprint on your gravestone."

QLRS Vol. 21 No. 1 Jan 2022

_____